This morning, I did something really strange. I went to a club and danced before work. By myself.
It's called Daybreaker and it's an interesting concept: yoga followed by a DJ-led rave/dance party before work. You can buy admission to just yoga, just the dance party, or both. I'd heard about it from a friend and wanted to try it out, so we bought tickets for the February dance party (yoga sold out fast!) and planned to meet there.
Then the Seattle crud claimed my friend and she bailed at 6:45 this morning. I had a choice: forfeit my $15 admission or suck it up and roll solo. Trying to ignore that junior high-level insecurity in my belly, I got on the bus and headed to the club. To dance by myself. At 7am. There would be coffee, at least, so even if I just stood in the corner like Joan Cusack in Sixteen Candles, at least I'd have something to clutch. Or maybe I'd find a friend! Even Joan found a friend.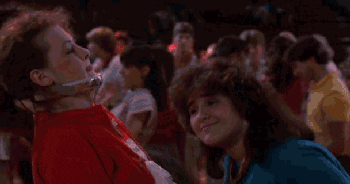 I got off the bus and walked to Sole Repair, a former cobbler shop-turned-event space. I could hear the DJ from a few blocks away; this part of Capitol Hill was surprisingly quiet in the morning and the bump-bump of techo music announced itself loud and proud.
I opened the door and WHOOSH the humidity of sweat and movement took me in, along with a very tall, beautiful woman who yelled "Welcome!" over the DJ and gave me a big hug. "We're so glad you're here!" She stamped the inside of my wrist and pointed me toward the back wall, where everyone had dropped their coats, purses, and extra clothing.

The room was packed with mostly women wearing their best and brightest Lulus and Athletas. There was one gentleman in a Ghostbusters jumpsuit. A few ladies had stripped down to their sports bras and were glistening with sweat; I dropped my bags and headed straight for the coffee, then to the back of the crowd to people watch and send sneaky SnapChats. (Except there was no need to be sneaky because almost everyone was snapping and selfie-ing with abandon.)

And before long, I was dancing. By myself, but also with everyone. It was too crowded for cliques and too loud for conversation, so a lone wolf didn't look too out of place. My spot on the periphery eventually closed around me and soon, I was in the crowd. I started with some head nodding and hip swaying, but then a remix of Whitney's "I Wanna Dance With Somebody" came on. I slammed the rest of my coffee, put down my cup, and danced.
And then: Hall and Oates "Can't Go for That" accompanied by brass and drums. What!!
The rest of my hour consisted of more dancing, more coffee, bubble machines, giveaways, happy birthday to the gorgeous woman who hugged me at the door, and free samples of all kinds of bars, juices, and even canned iced coffee. And a random woman just painting away in the corner.

As I was checking the time and feeling kind of sad that I had to leave for work soon, I heard a group of women next to me say, "This is [blergh blergh]. She came her by herself!! Isn't she so brave and amazing?!" And the group embraced her into their dancing circle.
HEY! I wanted to say at first. I came alone, too! I also deserve your hugs and validation. Pick me, choose me, accept me, I am worthy of your attention even though I don't know you and will never see you again!
I let that feeling pass and instead, smiled and did a sweet spin move* (being very careful not to spill my coffee or bump into the woman dancing next to me who wore elf ears) and realized: I am just fine dancing on my own.
*the spin move was probably not all that sweet